It is certain that some of you have the dream of riding on a large animal once in life. So, we offer you an elephant village sanctuary tour in Luang Prabang during your travel in Laos.
This village was found in October 2003. Initially, it was just a small camp that rented two elephants from the nearby Hongsa  neighborhood. Afterwards, the camp began to purchase its own elephants.
Located in the Xieng Lom village, very close to the banks of the Nam Khan River and about 16km from Luang Prabang in the South East, the Elephant Village Sanctuary (or Elephant Park) founded for the purpose of saving elephants from abuse and then caring and protecting them.
So they have recently removed bulky armchairs from the back of elephants. Instead, you can climb directly onto its backs.
The elephant in Laos is used by man for working, logging. These elephants are often forced to work hard. That's why local people brought these poor animals to a house in the forest where they can rest and be cared for. Some wounded elephants would have a chance of recovery with a veterinarian on-site.
In this village, elephants can walk freely and are trained by the mahouts (guide and elephant trainer) who will ride on his back.
This village would offer you a unique experience in life to live closely to the animal and nature since you could give a bath and food to the elephants, take an elephant ride or a mahout experience. It means you would be given elephant training courses between half a day and two days.
After these courses, if you wish to take a bath with your elephant in the Nam Khan River, it is possible to take additional courses.
As this sanctuary village is individual and is not supported by any organization. Then your visit will help lengthen its running time and bring happiness to the elephants.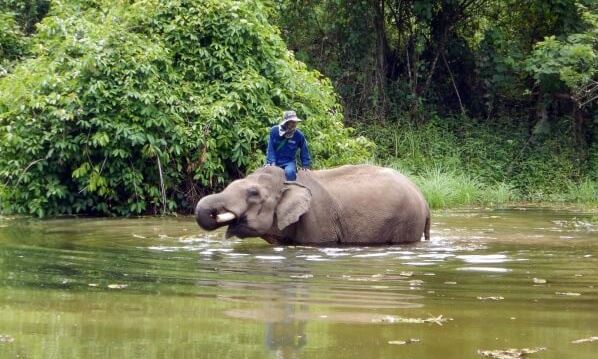 attractions.attractiontours