Nong Khiaw is small village, which is located about 150 km north of Luang Prabang and on the banks of the Nam Ou River because it offers picturesque landscapes and the slow rhythm of life. Indeed, the Laotians often say: "You want to leave the sounds of the city and enjoy the sweet flavour of living in Laos? Then come to Nong Khiaw.
Nong Khiaw also pronounced Nong Kiau, or Nong Kiew is on Route 1 - towards Sam Neua and Vietnam. What makes this village more appreciated by tourists are the decent accommodations, inexpensive, a few nice retaurants, and especially the warm locals. In addition, Nong Khiaw is also known as a beautiful privileged stage after a long itinerant trip across the country, especially the beautiful Muong Ngoi village located about 1h by boat from Nong Khiaw.
Almost every 300 meters of Nong Khiaw shoreline are surrounded by lush green vegetation, steep cliffs that allow you to enjoy long walks, and interesting expeditions.
Nong Khiaw is divided into two parts by a fairly solid bridge. The majority of the residents are on the west side, however the guest houses on the east side.
As this village is small and far from the Luang Prabang center, one can discover there the overflowing nature (sugar loaves, rice fields) and the authentic culture that time has not influenced. In the past, this place was poor and short of infrastructure but today local people have set up an automated teller machine (ATM) in Nong Khiaw. In addition, tourists may have many more options of pasta in local restaurants and a 24 hours a day electricity service.
Besides mountains and forests, it is possible to explore beautiful caves (Phatok, Pha Kuang, etc.), dirt roads, especially the 100 waterfalls. (These are not really 100 waterfalls, but rather the continuous cascades.)
As for the caves, you can go there by taking a walk of about 45 minutes on foot, otherwise by bike. Particularly, the inhabitants have already used them as domiciles in times of war.
By doing a tour outside this village, you can meet the Khmu or Hmong villages. Most of them still maintain their own customs, traditional costumes and languages. If you intend to make a circuit in Luang Prabang, please consult the Traditional Arts and Ethnology Centre (TAEC) before reaching Nong Khiaw for more information on this subject.
Nong Khiaw is undoubtedly a quiet and ideal destination for people who want to admire the natural and cultural beauty while enjoying a pleasant moment on the banks of the Nam Ou River with a book and a glass of refreshing beer. 
Regarding the modes of transport, there are buses from Luang Prabang to Nong Khiaw (about 4 hours), some other buses like the tourist bus from South Station, two local buses from North Station, buses from Udomxay, whose rates are based on each journey.
There was once a boat service operating between Nong Khiaw and Luang Prabang but now, it stopped, due to the construction of a dam. This allows buses and cars to cross this dam to go directly to Nong Khiaw.
You should come there in the dry season or at the beginning of the rainy season to let a little time for the roads in Nong Khiaw rebuilding after the rain (in the rainy season). 
You will find below a list of interesting things to do in Nong Khiaw:
• Take a walk through the village with a wonderful view of the Nam Ou River (there is a small temple in the city center).
• Walk or pedal the bike on the dirt road behind the Riverside station for picturesque scenery and nature.
• Rent a mountain bike to visit the Khmu or Hmong villages since there is a lot of  'going up and down'.
• Experience a Hammam or massage at Sabai Sabai.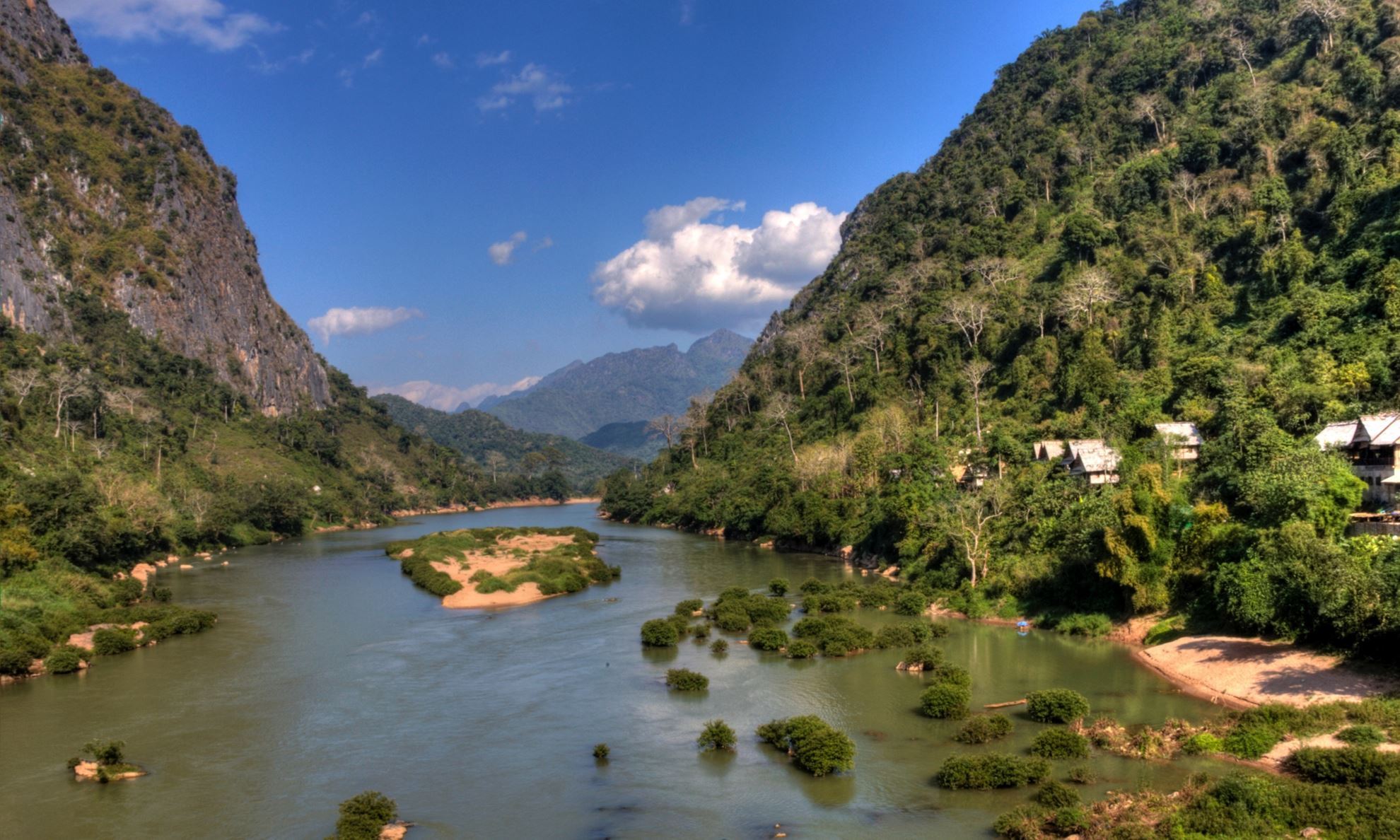 attractions.attractiontours